Online Conference – Calming signals of horses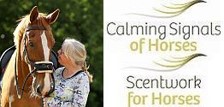 Date: Thursday 01 July 2021 – 8:00pm (CEST)
Language: English – translated into French

We are pleased to welcome Rachaël Draaisma who has always been passionate about dogs and horses. In 2002, she decided to devote her time to her passion. This Online Conference is an introduction to the calming signals of horses.
We will learn:
– to observe certain elements of our horse's body language
– to recognize certain signs of discomfort in our horse
– to observe the impact of our own body language on our horse
Registration: please send an email to contact@activiteschiens.be
Price: 25 euros to be paid into the bank account BE85 0689 0650 1706
Duration: ± 1 hour conference, followed by a Q&A session
The recording of the conference will be availabe from 2 to 15 July 2021.