There are a thousand ways to go for a walk. We will obviously take into account the physical capabilities of our dogs. A puppy can walk for 10 minutes at the age of 3 months, adding 5 minutes per month of age. An older dog is no longer able to walk as long as before or on uneven surfaces. To each dog his own walk!
| | |
| --- | --- |
| Social walk with "les Youkis heureux", on a country lane | Social walk to the seafront with "les Youkis heureux" |
We will also take into account the emotional abilities of our dogs. If our dog is reactive to horses or cars, we will choose suitable walking places (without horses / without cars) if our aim is to offer a relaxing and exploratory stroll. Habituation exercises are to be organised outside the relaxing walk.
| | |
| --- | --- |
| Social walk in mud | Social walk in the wood and snow |
It is important that the equipment be adapted to our dog:
the leash must be long enough to allow the dog to discover his surroundings: 3 meters minimum. A training session can be helpful before using a long leash with our dog;
the harness must respect his morphology (throat, scapula and underarms);
the carabiner clip is attached to the harness so that the snap hook is positioned upwards (not towards the back of the dog).
Why should your dog wear a harness? More information here ->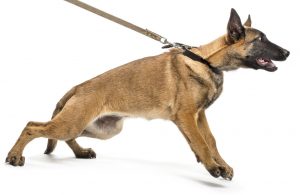 Do you need a new harness or leash ? We can help you
| | | |
| --- | --- | --- |
| Shoulder blades, armpits, throat are free | Y-harness for Lissa | The snap hook is positioned upwards |
If we prefer to walk our dog without a leash, let's keep the leash on until the muscles have time to warm up (at least 10 minutes).
We regularly offer our dogs new places to walk (city, forest, car park, building sites,…), and keep in mind that, depending on the weather or the seasons, these places change in configuration and smell.
A freshly cut field in spring or the same field in the rain in autumn are places to be rediscovered olfactorily, but also with the touch of the paws on the ground. The rhythm of the children's school day is also an example of the changing atmosphere of a neighbourhood or village, depending on the time of day or the time of year we walk there.
Beware that in very cold or hot weather, the pavements can be irritating for the pads (frozen pavements or burning tarmac for example).
Walking together, our dog and us, or sharing it with other people and/or other dogs, is also a variation of the fun activities.
How about taking a little break on a bench to watch the world go by! All our senses in action, seemingly doing nothing.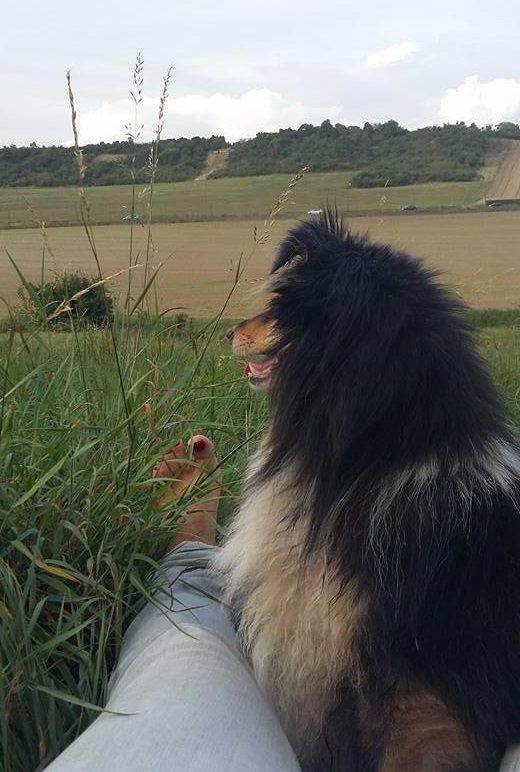 Those who cope
During these walks, our dog has learned to deal with new sensations, new situations, new objects,… All these victories build the confidence he has in himself… and in us.
If the aim of the walk is to explore, the pace of the walk is necessarily slow. Let's observe our dogs as they explore: they look, smell, listen, move forward a little to see and feel better, and continue the walk at this pace. The slower we walk, the more we invite our dog to take his time to explore and discover the world.
When our dog stops, it is important that we stop too. The message we give him when we stop is "I'm waiting for you, take your time". If our dog has stopped for something he has no difficulty with (to do his business or to analyse a very interesting blade of grass) and we continue our walk, while our dog is busy, he will feel obliged to catch up with us, without having finished analysing that wonderful smell that had attracted his attention so much.
Our dog will also stop to better observe (with all his senses) something that intrigues or frightens him. By stopping, we give him the time he needs to check that this thing is not dangerous: we ourselves have remained in this situation, we have not run away.
It is always useful to give a hand signal if our dog seems hesitant.
| | |
| --- | --- |
| Els (Freedogz) is walking with Imaree and Lissa, with long leashes | Social walk in the fields with "les Youkis heureux" |
Those who do not cope
It is important to be aware that some dogs will not be able to handle the situation when faced with something that frightens them too much: they will then become reactive (growling, barking, throwing themselves forward or trying to run away,…). It is urgent to get our dog out of this situation which overwhelms him: put the necessary distance between our dog and something he can't cope with.
If our dog has become reactive to certain things (non-exhaustive list: rubbish bag, tree branch, butterfly, noise, walker, jogger, dog, horse, plane, car,…), habituation walks can be organised but it is better to ask for the help of an instructor, consultant or behaviourist who uses non-coercive and non-violent methods.
The criteria for a habituation walk are:
duration of only a few minutes,
at a sufficient distance from the difficulty (each dog has his own safety distance),
in a secure environment,
ends on a positive note,
respects the development of our dog.
Recommended book and DVD: "My dog pulls – What do I do?", by Turid Rugaas.
TAKEAWAY
Relaxing walks and habituation walks: opposite purpose / different organisation;
We need non-coercitive material (long leash and ergonomic harness – armpits, throat and shoulder blades are free);
To walk slowly = To allow our dogs to use all their senses;
Let's vary the fun activities;
Learning to cope safely with difficulties;
Walking or watching the world go by.